That would be Dylan. Here's a pic of how Dylan looks 'straight' out of the box:
And here's how Dylan looked after I gayed him up
a lot
:
Unfortunately I forgot to take a solo pic of Dylan. Don't they make a cute couple?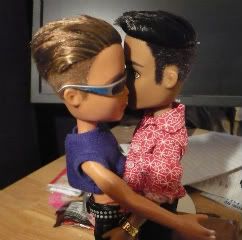 Ahhh! But do they have what it takes to make a relationship work? I'll give you a hint: There are still three other Bratz Boys dolls that my Walmart carries. Anyone else see drama in the future?