Remember this picture?
I still haven't figure out who in their right mind would think this was a good name for a boy's bike. Well, guess what?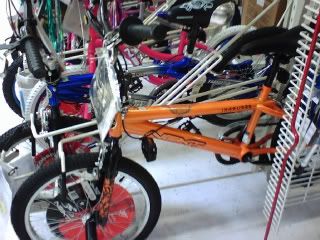 Yep, the bike finally came in!
The other day I even heard a mom talking with her husband, debating what bike to buy junior, and when she mentioned The Intruder, I had to leave the floor because I had to laugh so hard I almost collapsed and I know I'd have had to explain to people watching. Now, I just have one wish. I want the following bike to come in too so I can put it on the rack next to The Intruder.
It'd be a match made somewhere other than heaven, don't you think?